Creamy Sweet Potato Chili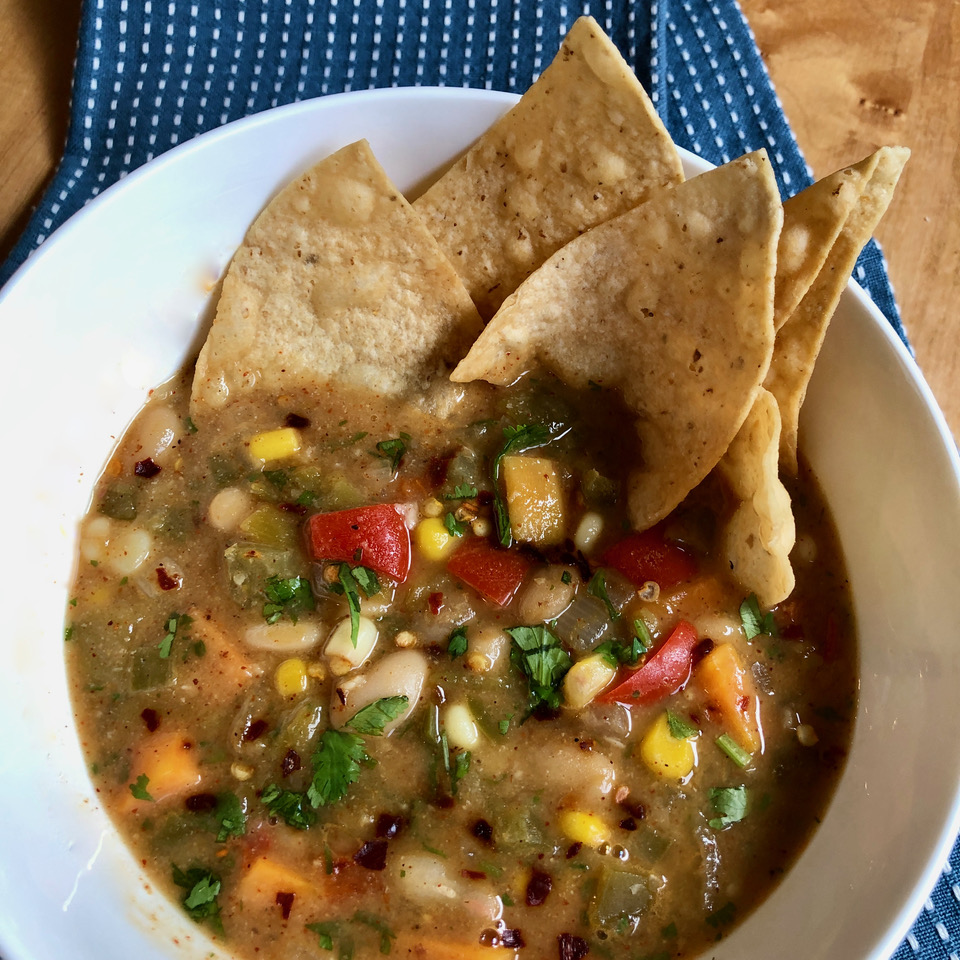 Everyone seems to love chili when the weather gets colder. With plenty of beans and other vegetables, plant-based chili can be a filling and nourishing meal that is high in fiber, protein, and antioxidants.
Ingredients
1 celery stalk, diced
1 onion, diced
4 garlic cloves, minced
1 jalapeño pepper, seeded and minced (optional)
1 red bell pepper, seeded and diced
2 15-ounce cans low-sodium cannellini beans, rinsed, drained, and divided
2 cups vegetable stock (prefer low sodium), divided
1 cup fresh or frozen corn
1 ½ cups peeled sweet potato (or butternut squash), ½" dice
1 Tbsp chili powder
1 tsp cumin powder
½ tsp coriander
2 Tbsp nutritional yeast flakes
1 Tbsp lime juice
1 8-ounce can green chili peppers
¾ tsp salt (if needed)
2 Tbsp chopped fresh cilantro (optional garnish)
Red pepper flakes and hot sauce (optional garnish)
Directions
In a large pot over medium-high heat, sauté the celery, onion, garlic, jalapeño, and bell pepper in ½ cup vegetable stock. Place half of the cannellini beans in a blender with the remaining vegetable stock, and blend until smooth and creamy. This will create a thicker base for the chili.
To the pot of vegetables, add the remaining beans, the bean-broth mixture from the blender, and the rest of the ingredients. Cook over medium heat for 20–30 minutes or until vegetables are tender and broth is creamy.
Taste to see if salt or more chili powder is needed. Adjust accordingly. After checking to make sure everyone likes cilantro*, either stir in cilantro or garnish bowls with cilantro and serve. Pass red pepper flakes and hot sauce for those who like spicier food.
*For some people, cilantro tastes like soap. Leave cilantro as an optional garnish unless you can check with those eating the meal as to whether they enjoy this herb or not.