The positive healing power of plants can be life-changing. Studies have shown that a plant-strong diet can improve health and reduce incidences of heart disease, diabetes, cancer, obesity and chronic illnesses.
Planted Platter promotes eating more plant-based meals and snacks as a pathway to better health. This mission is grounded in evidence-based research about the benefits of eating plant-based food. (See our list of plant-based Medical Experts.)
We encourage and enable a healthier lifestyle through customizable and fun plant-based recipe demonstrations, services and classes. Long-term data and reports reveal that simply telling consumers to "eat healthy" hasn't changed the prevalence of serious and often reversible illnesses and chronic conditions. Inviting people to watch the easy recipe preparation and taste the plant-based dishes gives them the confidence to move ahead.
Whether we are consulting to the hospitality industry, presenting food and nutrition programs and classes, implementing employee educational workshops, or providing individual/family cooking and lifestyle coaching, Planted Platter promotes plant-based eating options—for everyone, everywhere. Our goal is to increase consumer education and improve access to plant-based food through restaurants, caterers, entertainment venues, tourism destinations, food retailers, employers, and institutions.  
Planted Platter's focus is further supported by personal experience and other individuals' stories about improving health once they stopped eating a "Standard American Diet" including animal-based products and processed foods high in sugar, fat, and salt.
Deb Czech, Owner & Founder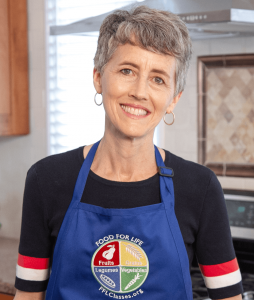 "As a runner, switching to a plant-based diet gave me more energy, faster recovery, and easier breathing. Let's discover together what plants can do for you!"
Inspired by the movies Forks Over Knives and Food, Inc., in 2012 Deb Czech switched up her meals to harness the nourishing power of plants. She studied plant-based nutrition through the T. Colin Campbell Foundation and eCornell. Upon finishing the six-week intensive program, she pushed animal foods off her plate for good.
Later, Deb sliced and diced her way through the Forks Over Knives plant-based cooking course at the Rouxbe Online Culinary School. In 2019 Deb earned a spot in the selective Food for Life instructor training through the Physicians Committee for Responsible Medicine, becoming licensed to teach a wide range of the group's research-supported, plant-based nutrition programs.
Prior to Planted Platter, Deb's marketing and public relations career has included experience with consumer brands, agriculture, recreation, hospitality, and wellness clients. Before pursuing recent education in the plant-based nutrition field, she completed her undergraduate degree in political science at Yale University and received an MBA from Simmons College in Boston.
Deb credits her parents for planting an early seed in her mind about healthy eating: they cultivated a large backyard garden behind her childhood home, providing abundant vegetables and berries, and cooked almost all family meals from scratch. Nowadays, when Deb isn't teaching plant-based nutrition or trying out a new recipe, she puts her plant-powered energy to use leading an active life outdoors and spending time with family and friends.