Beans and Greens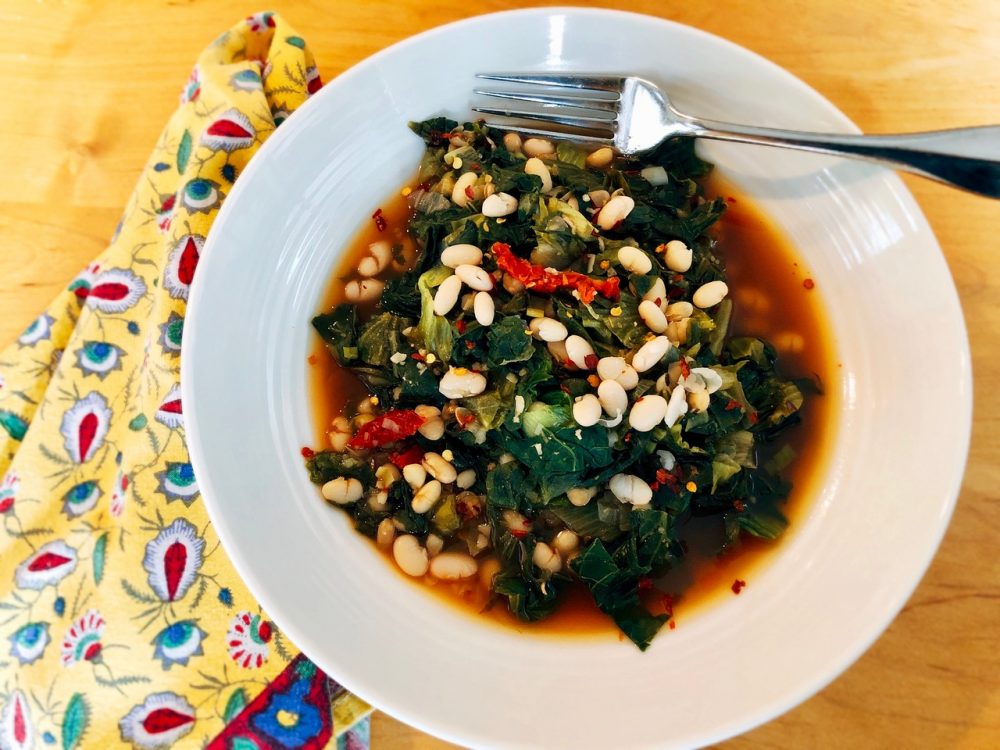 Just like the name says, this dish combines two key elements of a plant-based diet: beans and greens, a combination that provides protein, calcium, fiber, and other nutritional benefits. White beans are a traditional choice, particularly cannellini beans, though navy or Great Northern beans also work well. If you are using dried beans and will be cooking them on the stove, start soaking them a day or two before you plan to assemble the dish and don't forget to factor in the cooking time for the beans prior to beginning this recipe. You may want to look up ways to cook beans in a slow cooker (set it and forget it) or a pressure cooker (fast). While cooking dried beans from scratch is a budget-wise choice, you can also use canned beans with good results. In that case, try to choose cans marked low sodium.
We cooked the beans for this recipe with a bay leaf, which gave the reserved cooking water for the recipe a nice flavor. Be sure to taste the cooking liquid before you use it in the recipe; if you don't like it, substitute low-sodium vegetable broth.
Don't worry too much about having the exact quantities of beans and greens listed below. If you are a bit over or under, it won't matter much. You can also vary the greens to suit your palate and what you have on hand. Though many beans and greens recipes contain a decent amount of oil, this is a no oil recipe that still has an abundant combination of flavors.
Servings
4 to 8 (depends on portion size)
Ingredients
5-6 cloves garlic
1 small leek, sliced crosswise into rings or 1 medium onion, diced
3 cups reserved bean cooking liquid (if you cooked dried beans) or low-sodium vegetable broth
8 cups chopped kale (one large bunch; we like White Russian for its sweet and tender leaves)
8 cups chopped escarole (one large head)
2 to 3 cups cooked white beans (navy, Great Northern, or cannellini), cooking liquid reserved; if using canned beans, drain and rinse 15 oz cans
2 Tbsp balsamic vinegar
1/2 cup sundried tomatoes, julienned (Trader Joe's packages no oil, julienned sundried tomatoes in a zip pouch)
1 Tbsp tomato paste
Few shakes of red pepper flakes (to suit your taste)
Several grinds of black pepper
Directions
Make this recipe in a large pot to hold all the raw chopped greens. We measured the greens in a 4-cup glass measuring cup, moderately packed. They will cook down significantly, but it's easier to stir if you have higher walls on the pot at the beginning. If you used dried beans and you didn't salt the cooking water, save the liquid to use in this recipe, but be sure to taste it first. It probably won't be very flavorful, because it will be plain, which is OK; what you want is something that tastes like beans. You'll add the zippy flavors later.
Prepare ingredients. Peel and mince garlic (or use a garlic press); chop leek or onion. Clean and wash kale and escarole. Remove thick kale stems. Roll the de-stemmed leaves together into a bundle and grab with one hand, while using a large knife to roughly chop the bunch into 2 to 3 inch square pieces. Set aside.
In large pot, add a small amount of bean water or vegetable broth to cover the bottom, then add leek or onion and garlic. Cook several minutes over medium heat to soften. Add a few handfuls of greens and a 1/2 cup of liquid to the pot, repeating several times until all greens are used. Greens will soften and cook down. Add more liquid as needed.
Once greens have cooked down somewhat, add the beans (whatever amount is pleasing to you, based on how your greens cooked down…start with 2 cups and add more if you want) and remaining flavor ingredients. Simmer gently and if time allows, turn off the heat and let everything sit for 30 minutes for the flavors to blend.
Serve in low bowls, including some of the broth along with the vegetables. Garnish with additional red pepper flakes, if desired.
Beans & Greens Serving Ideas
Serve with polenta, roasted or mashed potatoes, or farro or other grains. Hearty whole-grain bread is also a good match, for sopping up the warm broth at the bottom of your bowl.