Online Plant-Based Cooking & Nutrition Classes
2020 has been a tough year, right? What if you finish it off by taking a giant step forward in improving your health? Our fall plant-based nutrition and cooking classes are just the thing to add positivity and better health to a challenging time!
As we continue to teach classes online due to COVID-19,  it's exciting to be offering several day and evening classes on plant-based nutrition and vegan cooking. We've moved our daytime class slot to the mornings, from 10:00 to 11:30. Our evening classes now start at a slightly later time of 6:30 p.m., to allow people to get home from work comfortably and handle family suppers.
Here are the FALL 2020 CLASSES, including registration links to reserve your spot. There are 11 individual classes, covering topics such as cancer, diabetes, heart health and hypertension, weight loss, brain health, and thyroid health.
Be sure to also check out the savings offered with either the "Let's Beat Breast Cancer" 4-class bundle held in the mornings or the "Cooking to Combat COVID-19" series taught in the evenings.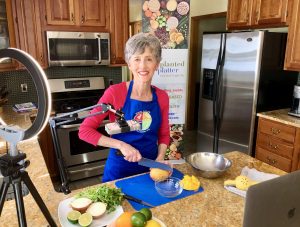 All of our classes can now be purchased right here on the website, so we've eliminated extra transaction fees for you!
Your Capital Region Food for Life instructor, Deb Czech, invites you to Zoom right into her kitchen for these upcoming whole food, plant-based cooking classes! Online classes keep you safe and make it super convenient to join in from home. Our kitchen is set up with cameras so you can see everything that's going on with our plant-based recipe demonstrations. You will receive the Zoom link, recipes, and handouts in advance of every class.