FOOD FOR LIFE | Plant-Based Cooking & Nutrition Class
Tuesdays, April 18 and 25 and May 2 and 9, 2023, 6:15 – 7:30 p.m. ET
In-Person Class at Malta Community Center, 1 Bayberry Drive, Malta, NY 12020

Ready to take action on improving your health? This free 4-class series features easy, low-cost recipes that deliver the power of plant-based wellness. 

CLASS TOPICS
NOTE: As of 3.24.23, all new registrations are WAIT LIST ONLY. You will be notified if a spot opens up for you in the class. 
This four-class series, Food For Life: Healthy Basics, invites you to experience first-hand why a plant-based diet is effective in improving overall health and attaining a healthy weight. Each class will feature a short discussion of plant-based nutrition, a participatory cooking demonstration, and the opportunity to taste affordable, simple, and healthful plant-based dishes.
The Healthy Basics series will provide you with a foundation for losing excess weight and improving important health markers such as cholesterol, blood pressure, and blood sugar levels.
Class 1: The Power of Your Plate
Class 2: How Foods Fight Diabetes
Class 3: Foods for a Healthy Weight
Class 4: How Foods Fight Heart Disease
Register today to build healthier eating habits by putting more plants on your plate!
Class Venue & Registration
Classes will be held at the Malta Community Center, 1 Bayberry Drive, Ballston Spa, NY 12020, close by to I-87 Exit 12. While this is a free series, advance registration is required. (Click on the "Add To Cart" button above and complete the registration process.)
The class is limited to 20 participants. A waiting list will be held in case of a last-minute cancellation. Please arrive between 6:15 and 6:20 each week to enjoy some informal discussion before class begins promptly at 6:30.
Our Healthy Basics Host
This series is offered free of charge as part of Thyme to Thrive, a wellness program offered by To Love A Child. To Love A Child is a Saratoga County nonprofit 501(c)(3) organization that provides humanitarian assistance to impoverished children and their families throughout the world to help create a better ​future and quality of life for all.
"To Love a Child, Inc. is proud to present our first cooking class and there is no better partner for this inaugural milestone than Deb Czech, founder of Planted Platter!
We know you will love this free, four-part cooking and educational series so please reserve your seat early. Each week you will be greeted with a fabulous fruit refresher (non-alcoholic), learn about the benefits of plant-based eating, and sample incredible recipes. We will have so much fun together!"  — Cindy Schmehl, Executive Director, To Love A Child, Inc.
CLASS BENEFITS FOR YOU
Supportive group discussions about how to include delicious plant-based meals in your busy lifestyle
Informative handouts with plant-based nutrition tips for additional learning
Practical suggestions on replacing meat, dairy, and other animal products with tasty, plant-based ingredients
Recipe demonstrations using inexpensive, wholesome, plant-based ingredients, with a copy of the recipes for you to try at home
Tips for preparing healthy, low-cost vegan (plant-based) meals at home
LET'S TALK ABOUT HEALTHY FOOD!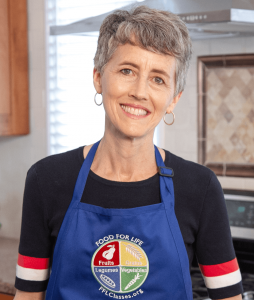 Hi, I'm Deb Czech, founder of Planted Platter. I've enjoyed excellent health on a plant-based diet since 2012 and would like to share with you what I've learned about cooking at home, dining out, and optimizing vegan nutrition. I am a licensed Food For Life instructor and a vegan cooking coach based in Saratoga Springs, New York, serving the upstate Capital Region. Food for Life is an award-winning nutrition education and cooking program that provides an innovative approach to diet-related chronic diseases. Designed by the physicians, nurses, and registered dietitians of the Physicians Committee for Responsible Medicine, Food for Life promotes healthful eating based on the latest scientific research.
CLASS DETAILS
Registration Deadline
Online registration ends 24 hours before the first class.
Refund Policy
This class is free of charge.
Cancellation Policy
In the rare situation where Planted Platter needs to cancel a class, all participants will be notified via email.
Additional Questions?
Please submit our Contact Form.