FOOD FOR LIFE | Online Plant-Based Cooking & Nutrition Class

Monday, April 17, 2023, from 6:30 – 8:00 p.m. ET on Zoom
Improve your health, maintain a healthy weight, and manage or eliminate chronic health conditions by adopting a plant-based diet.

CLASS TOPICS
Foods for Digestive Health reviews how a plant-based diet can improve and even eliminate digestive tract conditions, such as GERD/heartburn, IBS/Irritable Bowel Syndrome, IBD/Crohn's/ulcerative colitis, and gallstones. Eating a whole-food, plant-based diet can reduce your risk of colon cancer and improve your overall wellness by establishing a healthier gut.
See a short video with medical experts covering plant-based nutrition studies related to digestive tract conditions and diseases
Learn about the bacteria in your intestines and their impact on your health
Discover how dairy milk and meaty meals can negatively impact your gut health
Find out about cancer-causing carcinogens present in grilled meat, poultry, and fish
Discover how a fiber-rich diet based on plant foods can alleviate many GI tract conditions, including hemorrhoids
Watch a cooking demonstration to build knowledge and skills
Learn how to make three recipes you can enjoy at home
Explore useful resources and handouts related to plant-based eating and digestive health
CLASS BENEFITS FOR YOU
Supportive group discussions about how to include delicious plant-based meals in your busy lifestyle
Informative handouts with plant-based nutrition tips for additional learning
Short, fact-based video segments presented by medical and nutrition experts from the Physicians Committee
Recipe demonstrations using inexpensive, wholesome, plant-based ingredients, with a copy of the recipes for you to try at home
Practical suggestions on replacing meat, dairy, and other animal products with tasty, plant-based ingredients
Tips for preparing healthy, low-cost vegan (plant-based) meals at home
Question/answer time
LET'S TALK ABOUT HEALTHY FOOD!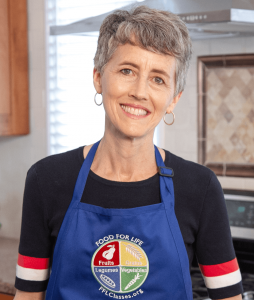 Hi, I'm Deb Czech, founder of Planted Platter. I've enjoyed excellent health on a plant-based diet since 2012 and would like to share with you what I've learned about cooking at home, dining out, and optimizing vegan nutrition. I am a licensed Food For Life instructor and a vegan cooking coach based in Saratoga Springs, New York, serving the upstate Capital Region.
Food for Life is an award-winning nutrition education and cooking program that provides an innovative approach to diet-related chronic diseases. Designed by the physicians, nurses, and registered dietitians of the Physicians Committee for Responsible Medicine, Food for Life promotes healthful eating based on the latest scientific research.
CLASS DETAILS
Online Classes Are Convenient
This class is taught online via Zoom. Join from wherever you are! Use a tablet, laptop, or desktop computer for the best experience, though a mobile phone also works.
Receive Class Information via Email
All registered participants will be emailed the Zoom link, plus copies of handouts and recipes, a few hours in advance of each class.
Registration Deadline
Online registration ends 24 hours before the class.
Refund Policy
Ticket purchases are non-refundable.
Cancellation Policy
In the rare situation where Planted Platter needs to cancel a class, all participants will be notified via email and will receive a full refund for that class.
Additional Questions?
Please submit our Contact Form.
​